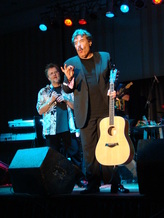 Okay, so I make a tri-annual pilgrimage each year to see Tony O. and the Lefty Brothers perform in Vegas. It is one of my favorite things to do as I consider them to be family, great musicians, great Americans. All of them from the band to Tony and Fran to the others that do as I, in the great and sincere following, share fellowship, enjoy meals together, and get charged from the wonderful show.

I returned from one such weekend yesterday. Sunday evening we had a magnificent dinner and afterwards I had to see if I could double my pre-set Vegas allowance (I didn't, but I didn't give it all back either, I am an amateur by Vegas standards). I was kind of proud as I lasted until about 1:30 am. In turn, I got up at 4:00 am to pack and catch an early flight home. I began my journey home, bug eyed and pooped, finding myself at the Vegas Airport around 6:00 am. It was still busy as ever... only Vegas... You can imagine having started this in 2009, I truly thought I had seen it all there (although the shock value was trumped in New Orleans recently).

So, I decided I deserved a nice greasy breakfast sandwich for my efforts to be up and on time at a time of day usually unbeknownst to me. I stopped at the airport Wendys on my way to my gate. I ordered a coffee, orange juice and the greasy sandwich I just referred to and found a fairly obscure booth to hide and pump the coffee, hopeful for a human feeling after it was all said and done.

I sat facing the Air Port window, and even the planes outside seemed still asleep. There was another booth between me and the window, I noticed there were all kinds of things around; a walker full of plastic shopping bags that were apparently serving as suitcases, an untouched salad on the table, a notably mobile patron, who was clearly the guardian of the walker and was toweling the seats in the booth, both sides, albeit he was only one who would take one seat. He was a big fellow, wearing sunglasses, and dressed as though he would go to Hawaii, flowered shirt and khakis, flawless.

I couldn't help but look as he dumped the towel he was using and pulled a collapsible broom out of one of his actual cases, a back pack. I looked away trying to be respectful and polite. But... I was so totally compelled I couldn't help but watch him methodically sweep the floor, the whole area under and around his booth, with his salad just waiting for him. His phone rang, he answered. He was near enough that I couldn't help but hear his side of the conversation, honestly, at this point I was truly ready to leave him completely alone...

So the one sided conversation went like this: "Yeah! (pause) Yeah, I am here... They lost my ******* baggage. Yeah, flight was delayed and they put me in a nasty dirty hotel room, I was so ******." Right about then my own alertness started to kick in, even without my first sip of the coffee. "Yeah, man, they don't know what the **** they are doing in Paris. They lost my ******* baggage (which we already knew). My meds were in there, but I managed to find one at the bottom of one of my ******* carry-ons... Yeah, yeah, man, if I don't take my ******* meds I go to jail." All this said while he was still swatting the chairs with the resurrected towel, while the salad got warm.

At this point, with him still on the phone, I quietly gathered my sandwich, re-lidded my coffee and grabbed my orange juice and headed for an empty gate to sit at. As I left the area I could still hear words and combinations thereof.

I silently thanked God that he was so OCD, psychotic, or what ever that he didn't notice me or that I had even heard a part of his conversation.

No meds, jail? I sat at the empty gate I found and devoured my breakfast. I hoped now I had truly seen it all.