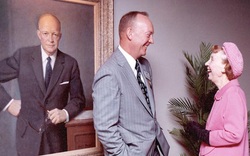 We are now a little less than a month upon the interment of my father's ashes at West Point. He will have full military honors. The picture of him at the left is with his mother. I love this picture because it has both of my life's heroes in it, Mimi and Daddy. And, they are sharing such a special moment.

My father grew up in a complicated world, and craved simplicity. He was shy, but trained himself to be social. Sometimes his shyness could be interpreted as distant, however, nothing was further from the truth. He had many fires throughout his life, which he internalized. It was always about others.

Truth be known, he was brilliant, had an amazing sense of humor, and could be implicitly trusted. He graduated West Point on D-day and was sent immediately to be with my Grandfather who was executing the largest military operation in history. He was there for all of it, including the eventual reviews of the death camps. He wrote much about Military History, and writing eventually became his passion, with a close tie on the Army. I asked him a couple of years ago if he would consider taping the "back-story", he had seen so much that no one would ever know. He told me that the information at the time was confidential, and remained so. He took the back-story with him. What integrity. It is hard to fathom what he must have carried with him all of his life.

Growing up with him, and all through my adult life, Daddy was my "go to", he always knew what to say, even if he didn't agree with the conversation. When there was trouble, he built me up, when I made mistakes, he allowed them and allowed me to be myself. He was there to help me figure it out, and I always felt wonderful after I saw or talked to him. Everything was all right, not because "Daddy had this", but because he enabled me to say "I've got this".

On the 21st of March, it will be three months since his passing. I will need the time at the very least ten-fold to adjust to life without him, I don't have him to consult with - this is the first time in my life where something huge has happened and I can't talk to him about it. Admittedly, I do - all the time - reminds me of the song "What will I do when all that I have left is a photograph to tell my secrets to, what will I do".

If I had to find one word to describe Daddy, it would be "gracious". He had an episode on Thanksgiving morning, as I sat next to his bed he told me he thought he was in trouble this time. He told me that I would have to look after him. I touched his arm when he said that, he opened his eyes and said, "Oh, don't worry, I have lived a good life."

He lasted almost another month, during which he ended up in the hospital. I think his biggest fear about death was being in the hospital. His own father had lived 9 months in one and died there. It became his mission to get home. After days of begging the doctors to let him go home, on the 20th of December, they agreed to release him as a Hospice patient as otherwise he couldn't be released. Still, it took until early evening for them to get an ambulance to transport him. His wife, Joanne, stayed home that day to coordinate equipment and such that he would need at home. So, I was blessed with him all to myself that day.

When the ambulance finally got there to take him home, I rode with him. I think he would have passed a couple of times in the ambulance, but I kept asking him questions which kept that brilliant mind going - it meant so much for him to get home. I think that was the most difficult thing I have ever done, putting him in the ambulance, I knew he was going home to die. I realized then what absolute unconditional love means.

When we got there, the elation on his face when he realized he was home is something I will treasure forever. Joanne had his bed in front of the window in his bedroom so he could see his favorite view, the pier. He and I traded pictures of it for years - he was a wiz with the iPad. It is the same pier as at the top of this blog page. Below is one I took at Thanksgiving, thinking perhaps that would be the last time I would have the opportunity. I did get to email it to him. That was what it looked like when he got home on December 20th.

After a few hours at home with him I was exhausted, I kissed him on the forehead and told him I was headed to the hotel to get some sleep. He smiled wide. I then told him I would see him in the morning, his brow furled. I had the feeling it was likely that he wouldn't make the night. He died the next morning, my birthday on December 21st, before anyone was up. The beauty of what you see in the picture below is the last thing he saw. His personal stairway to Heaven.

God has his arms around both of us, and we are both okay.

Hail and Farewell to an American Hero, John Sheldon Doud Eisenhower, you were a gracious man in life and in passing on. I will love you forever.