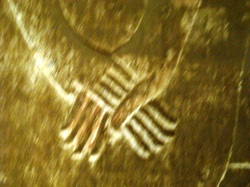 a bas relief at Edfu Temple, Egypt
From a friend of mine, Tamer El Bendary, in Egypt:

To all my friends abroad I want to deliver a message to you all and please be responsible to deliver it in our behalf to the media of your countries and to your friends and families, what happened in Egypt is the people's will, we have left our houses and stayed in the streets to step Morsi down, we the people of Egypt forced the army to take an action in our behalf, we wanted the regime out, it's not a coup it's the people's will, please spread the word to the world.
____________________

I post this for my friend in Egypt because he is there and in the middle of all of it. He is one of the every day people who has suffered tremendously through all of the turmoil. I think it is prudent to hear direct rather than hear media analysis, which can so often be subject to interpretation.

I ask my family, friends and colleagues to please pray for Egypt, it is time for the Mother Country to have peace and the ability to enjoy life and God's great gifts.