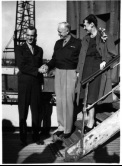 John Eisenhower with his parents, Dwight D. and Mamie Eisenhower c WWII.
_________________________________________________________________________________________
As a family member and one who personally knew Dwight D. Eisenhower, I feel especially sad about the controversy surrounding the planned Eisenhower Memorial in Washington, D. C.. Perhaps it is the times we are living in, or perhaps simply the wrong people in charge.
The family, consisting of my father (Pictured above), my brother David, his wife Julie, my sisters Anne and Susan, and me; has expressed concern with the design of the Memorial. We are united in this feeling. Somehow we have been dismissed by the Memorial Commission as being ashamed of our
"Kansas Roots". And, this has been backed up by unfounded speculation by the Commission Chair, Executive Director, and the press's interpretation of their comments. (For further detail on the design and controversy surrounding the Memorial, click the above picture)
Nothing could be further than the truth, in fact, my residence is in the Midwest; a la Sarah Palin, I can see Kansas from my front door. I hope it will be possible to retire to Abilene one day, I truly love it there. We are proud of our Kansas heritage and I personally resent this as a use to cloud the real issues, some of which have surfaced in a loud way, some more appalling that have not been publically verbalized.
I am not going to go into a heap of political discernment, but I want to express my deep sadness that this situation has allowed our family to be humiliated by the Commission, that what we thought were family friends have been divided from us and the horrendous backstabbing that has come of this has ruined life long relationships.
It is said that Ike had an infectious grin, (which he did) I believe the tear in his eye that must be there today would be equally as infectious.
In short,
I love Kansas
, but find the design inherently objectionable.
__________________________________________________________________________________________
Again, please either click the above picture or h
ttp://www.susaneisenhower.com