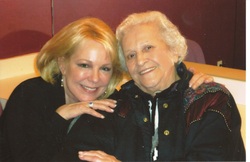 Our dear Ruth - we will miss you, of course. It isn't often that you find dear, dear friends like Tony Orlando and his beautiful wife Fran, perhaps only a handful of times within these fast lives we own. And, a handful is a very generous statistic.

I had luck like that when I met Tony and Fran in 1999, but also when I met and got to know Tony's mother, Ruth. She was firm with a heart of gold. Much like Tony and Fran, I fell in love with her the first time we met.

I met Ruth at one of Tony's concerts (I am an honorary member of the Lefty Brothers Band) and while she was well in to her 80's, I immediately felt I had known her as family, much as Tony and Fran have allowed me to share part of theirs. (I am forever grateful)

My biggest memory, shall we say significant moment with Ruth, where I really felt our families had melded, was in the middle of a Veterans' Day crowd at the Welk Theater in Branson, Missouri. Tony was throwing his annual show, which by the way, is awesome, every year! After the show I was in line for the green room to congratulate Tony on a show well done (that was also the year I gave Tony the PTPI President's Award) - the halls were packed. I saw Ruth from a distance standing alone, also waiting to congratulate her son. I made my way to her and gave her a hug as I gushed about the great show.

She put her hands on my face and looked in my eyes with a half smile and said, "In New York, when Tony was a baby and the war ended, we heard that Eisenhower would be coming through. It was cold out, but I bundled the baby (Tony) and we went to Times Square to get a glimpse of him." I replied, "who would have thought some sixty something years later his granddaughter would have fallen in love with you and your family?" She smiled, we hugged and the crowd broke us up - we ducked in to the green room and joined her awesome family. I thought at that time, this was a moment no one can take away.

Ruthie went home at the age of 87 - and while I know she lived a full life and is at a deserved rest now, it went too fast, the time I knew her - but at any age, isn't that life? It is always later than you think.

My heart goes out to Tony, Fran, Jon and Jenny, while a major part of you is
gone, she will always live on in the family she so loved and so influenced.

So, in conclusion, good-bye dear Ruth, we will always love you. Sleep with the angels and we will see you again, after we leave the party too. Keep the light on for us.