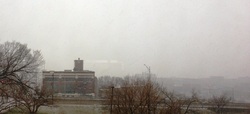 Future blogs will have much more meaning than this one - okay maybe not, but this is Spring in Kansas City! The snowflakes are so big it looks like a snowball fight between Tinkerbell and her friends.

Believe it or not, there are high rises in this view when the snow isn't tumbling.

Snow days are in some ways a mixed blessing. On the one hand, life outside of where you park your boots is dysfunctional, on the other, one is left with solitude to reflect on what is happening when it is not snowing, or where there is no snow at all.

Today I got a call from a friend in Egypt. It was a wonderful call, and reminds me of how true friendship transcends boarders and differences, either physical or emotional. If only people would take the time to see this for themselves rather than depending on the media's interpretation of how things are or should be... If only.

In reflection today, I will express an intense opinion on two things:

It should be mandatory to travel abroad before high school graduation. This will affect a student's outlook for the rest of his/her life, and in this global arena we find ourselves in, has become a necessity rather than a luxury.

Second reflection? Thank you to those who have served us and preserved us. People are also unaware of how much you do, not only for us at home, but also for those in other countries. Somehow "Thank you" seems weak.

So, happy spring to those riddled with snow and those who are not - and I am grateful for the time to reflect. Every time I have this opportunity I am restored in knowing and loving this gift of life.